As of Jan. 1, 2023, we are experiencing delays in provider assignments and completion for cases for Online Second Opinions due to current demand. We apologize for the inconvenience and appreciate your patience.
Expert opinions delivered quickly, without leaving home
An expert online second opinion from the children's hospital that is ranked among the best in the nation can reassure you that you are getting the best care for your child — from the comfort of your home. Everything is done online and securely, saving you the time and expense of traveling to Boston.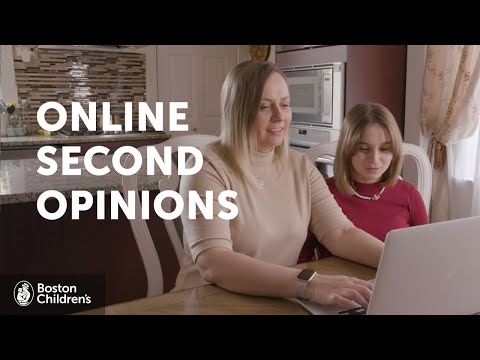 A Boston Children's physician who specializes in your child's specific condition will:
review your child's medical records and health history remotely
evaluate the current diagnosis and treatment recommendations
prepare a comprehensive written opinion on your child's case, including answers to your specific questions
How our online second opinion program works
If this is a medical emergency, please call your local emergency service number (911 in the U.S.) or go to your nearest local medical center. U.S. patients who are pursuing an appointment, virtually or in-person, at Boston Children's Hospital should not request an online second opinion. 
Register, submit payment, and complete the patient questionnaire. 
Get started by creating an account, submitting payment, and completing a short patient questionnaire on our secure platform. Gastroenterology, neurology, and cancer and blood disorder requests cost $1,150, and all other conditions cost $850. Currently, most health plans do not cover online second opinions, but you may elect to use your Health Care Saving Account (HSA) or Flexible Spending Account (FSA).
Meet your Care Advisor at Summus.
Your Care Advisor will guide you through the medical records collection process and help you draft the questions you want to ask the Boston Children's physician. The medical records collection process can take up to two weeks. Unfortunately, Boston Children's cannot reimburse for translation services.
Assign your Boston Children's physician.
A Boston Children's physician who specializes in your child's specific condition will be selected to review your case. We aim to deliver the second opinion report 7 to 10 business days after all necessary medical records are received. Turnaround times can be extended if a specific provider is requested or the case is recommended for a multidisciplinary review.
View your second opinion report.
After the Boston Children's physician reviews the case and answers your questions, you will receive an email to access and review your second opinion report on our secure platform.
Eligibility criteria
Please do not request a second opinion if:
the patient resides in Massachusetts
the patient has surgery or treatment starting in less than four weeks
the patient is currently hospitalized or in the ICU
the patient is seeking an opinion from one of the following specialties/programs: Stroke, Cardiology, Cardiac Surgery, AFM, PANS/PANDAS, or Esophageal & Airway Treatment centers.
Certain conditions require multidisciplinary assessment and may not be clinically appropriate for an online second opinion. Please review our eligibility FAQs before starting your online second opinion.
Why choose Boston Children's?
Boston Children's treats more children with rare diseases and complex conditions than any other hospital. A second opinion from our experts can confirm your child's diagnosis, help you understand your child's treatment options, and confirm the recommended treatment.
20% of all second opinions we provide result in a change of diagnosis*
68% result in some change in recommended treatment
33% of treatment recommendations are major changes
*—reflects data for all completed opinions from the period of January 1, 2016, through December 31, 2019