Researcher |

Research Overview

Linda Dagi, MD, has contributed substantially to the development and refinement of two new surgical techniques for managing strabismus from sixth nerve palsy, Duane syndrome, and third nerve palsy. She has employed high resolution orbital magnetic resonance imaging to demonstrate the anatomical relationships resulting from these procedures.

Dr. Dagi is Principal Investigator for a series of studies designed to compare the ophthalmic impact on patients with unicoronal synostosis treated by endoscopic strip craniectomy and helmeting (ESCH) rather than by fronto-orbital advancement (FOA). This demonstrated that those patients treated with ESCH had reduced astigmatism, amblyopia, and strabismus and a more favorable craniofacial outcome. She also studies complex strabismus in patients with syndromic craniosynostosis or other craniofacial disorders. Through the use of high resolution orbital imaging and 3D modeling she has demonstrated that exaggerated V-pattern strabismus has its origins at the orbital apex. She has studied surveillance of impending optic neuropathy in this population using OCT and prVEP.

As Director of Quality Assurance, she supervises the development of a goal-determined paradigm to evaluate outcomes of surgery for esotropia and exotropia.
Researcher |

Research Background

Linda Dagi received her MD from Harvard University Medical School. She completed an internship at Georgetown University Hospital and fellowships at The National Eye Institute in Bethesda and here at Boston Children's Hospital.
Researcher |

Media

Caregiver Profile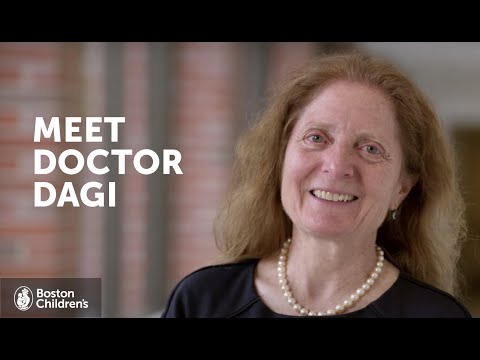 Meet Dr. Linda Dagi
Researcher |

Publications