Cory M. Resnick |

Medical Services
Programs & Services
Cory M. Resnick |

Education

Medical School

Doctor of Medicine in Dentistry

University of Pennsylvania

2005, Philadelphia, PA

Medical School

Harvard Medical School

2008, Boston, MA

Residency

General Surgery

Massachusetts General Hospital

2010, Boston, MA

Residency

Oral and Maxillofacial Surgery

Massachusetts General Hospital

2011, Boston, MA
Cory M. Resnick |

Professional History

Dr. Resnick practices pediatric oral and maxillofacial surgery at Boston Children's Hospital, with an emphasis on craniofacial anomalies and syndromes, orthognathic (jaw) surgery, management of Robin Sequence and pediatric obstructive sleep apnea, management of maxillofacial cysts and tumors, and the surgical management of temporomandibular joint disorders. Dr. Resnick is an active member of the multidisciplinary Craniofacial and Vascular Anomalies teams. In addition to these clinical interests, Dr. Resnick practices a full scope of outpatient "primary care" oral surgery, including the use of ambulatory intravenous anesthesia, removal of third molars (wisdom teeth) and management of other impacted teeth, placement of dental implants, and complex bone grafting.

Dr. Resnick was born and raised in St. Petersburg, FL. He attended the University of Pennsylvania in Philadelphia for undergraduate school, and continued at Penn to earn his dental degree. He then moved to Boston to earn his medical degree at Harvard Medical School and complete a 6-year Oral and Maxillofacial Surgery residency program at the Massachusetts General Hospital. His residency training included 2 years as a general surgery resident, as well as extensive training in inpatient and outpatient general anesthesia. This anesthesia training allows Dr. Resnick to hold an active General Anesthesia Permit. Dr. Resnick's education also included training in pediatric oral and maxillofacial surgery here at Boston Children's Hospital. After completing his residency training, Dr. Resnick went in to private practice in the New York area for several years before deciding to return to academic surgery. Dr. Resnick is certified by the American Board of Oral and Maxillofacial Surgery. He has also been inducted as a Fellow of the American College of Surgeons (FACS), a prestigious surgical society that maintains the highest standards for surgical education and practice across all surgical specialties. In addition to Children's Hospital, Dr. Resnick maintains privileges at the Massachusetts General and Brigham and Women's Hospitals.

In addition to Dr. Resnick's busy clinical practice, he is dedicated to innovation and improvement of his field through research and education. Dr. Resnick is the author of many publications in peer reviewed journals within and outside the scope of oral surgery, and he has been asked to contribute chapters to multiple textbooks. He lectures to medical and dental students at the Harvard Medical School and Harvard School of Dental Medicine, and he mentors oral and maxillofacial surgery residents through the Massachusetts General Hospital residency program. He has also been invited to lecture on multiple topics locally, nationally and internationally. He has many ongoing clinical research projects designed to improve treatment and outcomes in several areas of pediatric oral and maxillofacial surgery.
Cory M. Resnick |

Media

Caregiver Profile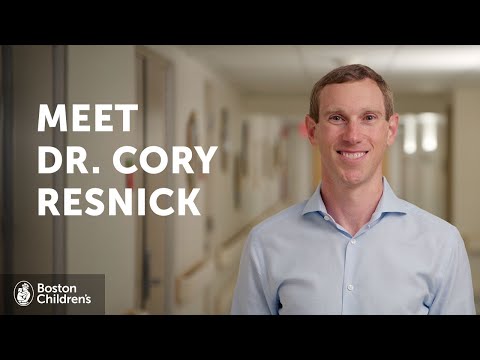 Meet Dr. Cory Resnick
Cory M. Resnick |

Publications