Joseph Madsen |

Medical Services
Programs & Services
Joseph Madsen |

Education

Undergraduate School

University of Utah

1976, Salt Lake City, UT

Medical School

Harvard-MIT Program in Health, Science, and Technology

1981, Boston, MA

Internship

Surgery

Beth Israel Deaconess Medical Center

1982, Boston, MA

Residency

Massachusetts General Hospital

1989, Boston, MA

Fellowship

Beth Israel Deaconess Medical Center/Massachusetts General Hospital

1983, Boston, MA
Joseph Madsen |

Certifications
American Board of Neurological Surgery
Joseph Madsen |

Professional History

I am a pediatric neurosurgeon with a strong interest in innovative approaches to the dynamic brain maladies of children, especially epilepsy and hydrocephalus. My clinical efforts are closely tied to my research program, the Neurodynamics Laboratory.

I received my medical degree in 1981 from a joint program poised uniquely at the intersection between engineering and medicine, the Harvard-MIT Program in Health, Science and Technology. I hold the Webster Family Chair in Neurosurgery and Neuroengineering at Boston Children's Hospital, direct the hospital's Epilepsy Surgery Program and am an associate professor at Harvard Medical School. My work is multidisciplinary and focused on applying engineering and mathematical approaches to my practice.

I have brought several innovations to clinical practice. These include a new technique to monitor shunt flow in patients with hydrocephalus, including the use of cardiac-gated MRI scans, thermal detection of shunt flow, and a valve massager technology. I have also developed a new technique to predict seizure focus using intracranial data gathered from implanted electrodes, which will one day allow surgeons like myself to better plan epilepsy surgeries. My practice has grown in part because of successful patient approaches developed during planning of such research programs.

I also have a strong interest in improving pediatric neurosurgery and epilepsy surgery abroad, specifically in China. In that context, I have been an adjunct professor in functional neurosurgery at Xuanwu Hospital, affiliated with Capitol Medical University, Bejing Institute of Functional Neurosurgery. I have been specifically working on a mechanism to review surgical cases in real time with colleagues at Beijing's Children's Hospital.
Joseph Madsen |

Media

Caregiver Profile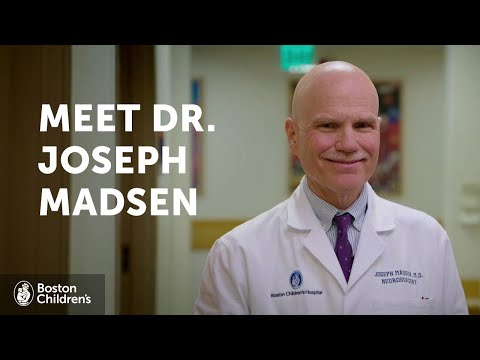 Meet Dr. Joseph Madsen
Joseph Madsen |

Publications